NT WATER SAFETY STRATEGY 2017-2021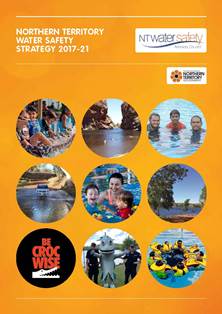 The Northern Territory Water Safety Strategy 2017-2021 builds upon previous Water Safety Plans and Strategies.

The strategy aligns to the Australian Water Safety Strategy 2016-2020 and is developed and reviewed by the NT Water Safety Advisory Council (NTWSAC).

The NTWSAC was established in 2002 as part of the Northern Territory Government's 5 point Water Safety Plan. One of the major requirements of the Council was to 'develop and implement a Northern Territory Water Safety Plan that focuses on water safety education, research and data collection and standards.

This strategy is designed to build on work that has already been done, while continuing to minimise the rate of drowning, near drowning and water related injuries in the Northern Territory.

Download the Northern Territory Water Safety Strategy 2017-2021 Here
The strategy aligns to the Australian Water Safety Strategy 2016-2020 and is developed and reviewed by the NTWSAC
NT Water Safety Advisory Council (NTWSAC)
Members of the NTWSAC meet quarterly and report six monthly to review the current action plan that underpins the strategy. The minutes of the meetings and bi-annual reports are sent to the Minister for consideration. The Chairperson will meet with the Minister as required or requested to ensure the highest standards of water safety are implemented in the Northern Territory.
The Chairperson is the designated spokesperson of the NTWSAC for media and community forums and will reinforce approved NTWSAC messages.
The strategy and action plan are reviewed as an ongoing continuous improvement model and updated versions are created as required and approved by the NTWSAC during the four year cycle.
The Northern Territory Water Safety Advisory Council (NTWSAC) provides the Minister for Tourism and Culture with high level advice on water safety issues within the Northern Territory. The Northern Territory Water Safety Strategy 2017-2021 builds on previous Water Safety Plans and Strategies.
Membership Structure
The NTWSAC comprises up to 16 members and will be appointed by the Minister for Tourism and Culture. Membership may be drawn from the following government and non-government groups:
Kidsafe NT
Surf Life Saving NT
Royal Life Saving Society Australia NT Branch
Department of Education
Department of Health
Department of Tourism & Culture – Sport & Recreation
Department of Infrastructure, Planning and Logistics – Marine Safety
Local Government Association of the NT
Local Government Association of the NT - Remote
Department of Tourism & Culture - Tourism
Amateur Fisherman's Association of the Northern Territory
Department of Tourism & Culture – Parks & Wildlife
Northern Territory Police
Community Representatives
Department of Infrastructure, Planning and Logistics – Pool Fencing Unit
Australian Volunteer Coastguard