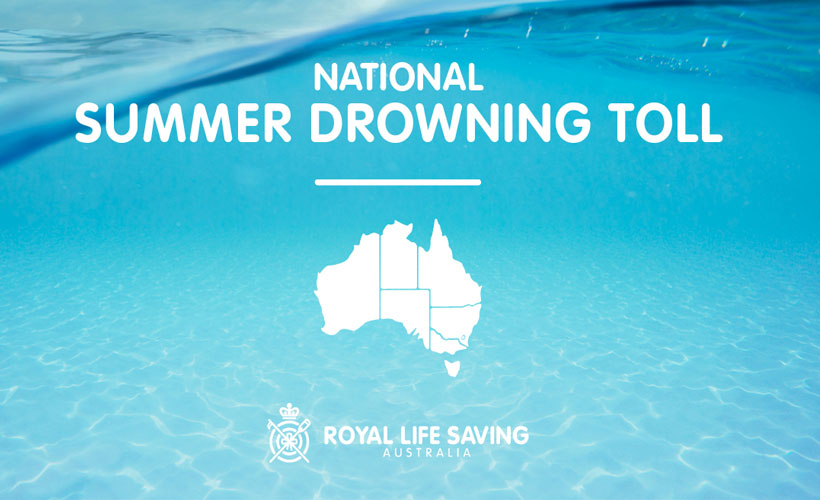 Royal Life Saving research shows a consistent peak in fatal drowning cases in the summer months. In a bid to understand the increased risks during this time, each year, we publish the Summer Drowning Toll from 1 December to the end of February, which charts drowning incidents around Australia in these months. This serves as a timely vehicle for us to promote safety advice in conjunction with our ongoing drowning prevention campaigns for particularly high-risk groups and communities, such as men, children and people from multicultural communities.
The Summer Drowning Toll will return in December 2022
Media contacts: For any media requests, please contact Media Key on 0409 420 112 or 03 9769 6488. A range of Royal Life Saving spokespeople are available for comment
Royal Life Saving Summer Drowning Report 2021/22
Royal Life Saving's annual Summer Drowning Toll showed a 30 per cent increase in drowning deaths across Australia in 2021/22, 20% of summer drowning deaths were flooding-related.
18 per cent of all drowning deaths over summer occurred on a public holiday. The two single days with the highest drowning deaths were both public holidays during the Christmas – New Year period.
The combination of extreme weather including flooding on the east coast and prolonged heat waves on the west coast, the easing of COVID-19 restrictions enabling people to travel all played a role in drowning risk over the summer months.
Comparing to the Summer Drowning Toll numbers from the previous five summers (2016/17 to 2020/21):
Drowning deaths among people aged 35–64-years are on the rise
In comparison, drowning deaths among people aged 18-34 years are decreasing
Children aged 0-17 years consistently account for the lowest numbers of drowning deaths over summer
Drowning at inland locations decreased, while coastal drowning deaths increased
The numbers of visitors to natural aquatic waterways have also risen, meaning more people are swimming, boating, fishing, and socialising, on and around the water.
This finding was supported by a nationwide community survey conducted for the consecutive second year by Roy Morgan on behalf of Royal Life Saving. The research tracked people's participation and activity around water, finding 52 per cent of people visited an aquatic location in the past three months (January-March), and social gathering at all aquatic locations were up by 10 per cent compared to last year.
The Summer Drowning Toll could not capture any alcohol involvement in the drowning deaths recorded. However, the Roy Morgan survey data reported around half of all Australians drink alcohol around the water, and about a quarter sometimes go in the water after drinking.
The Summer Drowning Toll 21/22 demonstrated that drowning risk is always present, regardless of weather and water conditions.
Heavy rain and flooding meant there was unexpected exposure to water where we least expect it, and people may not be aware of some of these risks and how to respond to the changing conditions.
Conversely, the warm weather encouraged people into the water to cool off. However even when the getting into the water is a planned activity, we still need to be aware of safety precautions such as supervising young children, avoiding alcohol and wearing lifejackets when out on the water or fishing.
Royal Life Saving Summer Drowning Report 2021/22