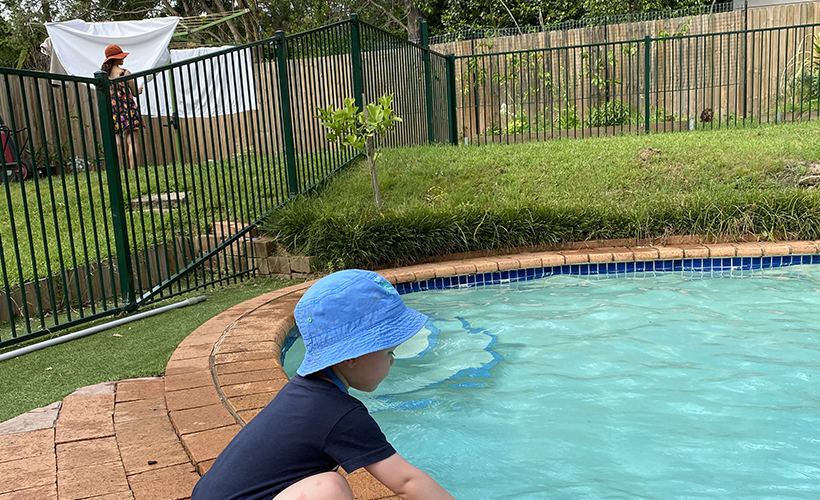 Household chores have been found to be the number one cause of distraction in a study reviewing the circumstances leading up to the deaths of 447 children who drowned in Australia over a 15-year period. This equates to four in 10 (40%) cases of unintentional fatal drowning among children aged 0 to four years.
Dr Amy Peden, the study's lead author and Royal Life Saving Senior Research Fellow, said "We know that children under five are at most risk of drowning and we know that active adult supervision is a key drowning prevention strategy in this age group. Lapses in supervision therefore put young children at an increased risk of drowning. This study takes a look at why parents and caregivers are becoming distracted and the reasons for any lapse in supervision."
Indoor and outdoor household chores – that is everyday tasks, such as checking on dinner in the oven, taking the rubbish out or putting the washing out – accounted for lapses in supervision of young children in nearly half of the deaths in the study. This was followed by talking and socialising (14%) and electronic distractions such as smart phones (11%).
The study, conducted in collaboration with UNSW Medicine and James Cook University, found that over half of those who drowned from 2002 to 2017 died in swimming pools, and that most of these were backyard pools (87%). Over two-thirds of drowning deaths reviewed in this study occurred at the child's own home. The data shows that 67% of fatal drownings were toddlers aged 1 to 2 years, and most of these deaths occurred in swimming pools.
Meanwhile, those aged less than one year were more likely to drown in bathtubs – often having been left unsupervised or in the care of young siblings who may not be able to supervise properly. These deaths were found to occur in as little as 5cm of water within two minutes. This, Dr Peden says, highlights the importance of continual, active adult supervision within close reach of a child.
A fall into water, mainly in swimming pools, accounted for almost 80% of all drowning deaths analysed in this study, followed by bathing which accounted for 16% of deaths. Most cases occurred in summer (40%) and over 50% of incidents took place in the afternoon. In nearly 40% of cases, the child who drowned was in the company of other children.
"This study aims to provide organisations such as Royal Life Saving with data to further target child drowning prevention messages based on actual occurrences. My advice to parents, after reviewing the case files associated with these deaths, is that no task is worth your child's life. I am a mum of two young children and I understand the pressures on parents' time and the temptation to do other things. However, if children are in and around water, supervision is the only task you should be engaging in," says Dr Peden.
The findings of the study will inform Keep Watch, Royal Life Saving's child drowning prevention program for parents and carers of young children.
The full published paper is available online at https://onlinelibrary.wiley.com/doi/abs/10.1111/jpc.14668