MEDIA RELEASE
1st April 2021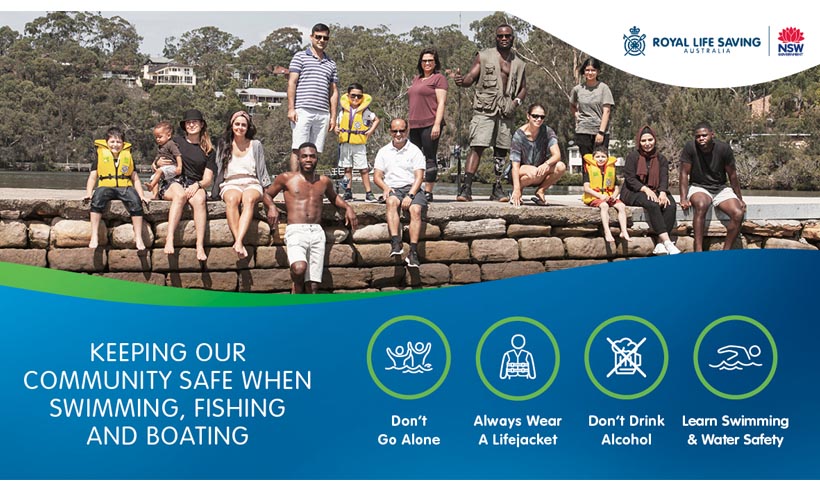 Royal Life Saving encourages multicultural communities to Make Safe Decisions when swimming, boating, and fishing these April holidays
Royal Life Saving research shows that 86 people drowned in Australia over the 2020/21 summer period, with 28 occurring in NSW. Of those people who drowned in NSW, one-third were known to be from multicultural backgrounds, the majority adult men. People drowned in all environments, including beaches, rivers, lakes, swimming pools and rocks.
Royal Life Saving - NSW CEO, Michael Ilinsky, said "Tragically over the summer, we saw too many drownings of people from multicultural backgrounds. Every drowning is a heartbreaking loss to a family and the wider community. Royal Life Saving is committed to increasing the swimming and water safety skills and knowledge among our multicultural communities and this new campaign is one step towards addressing this issue."
Royal Life Saving research shows that in the past decade, 312 people drowned in NSW who were born outside of Australia, 32 percent were young men aged between 18-34 years old. Males are overrepresented in drowning statistics. Men from multicultural backgrounds may be at further risk of drowning due to limited experience and unfamiliarity of Australian waterways and lack of swimming and water safety skills.
This new campaign was developed in partnership with communities, specifically focusing on the Chinese, Nepalese and Arabic speaking communities, to ensure that these important messages reach across our diverse communities. The four key messages emphasise making safe decisions when swimming, boating and fishing: Don't go alone, Always wear a lifejacket, Don't drink alcohol, Learn swimming and water safety skills.
Mr Ilinsky says, "We know that communities are embracing the Australian culture of being in and around water, but some adults come to Australia without the essential knowledge and skills to keep themselves and others safe around water. Some people may never have been in the water before or visited a public swimming pool, some have a fear of water and of drowning. These are challenges that we are working with communities to overcome by providing opportunities to learn swimming and water safety skills and knowledge, which will help everyone to enjoy the water safely. So, as we head into the April holiday break, our message is: Make Safe decisions around water when swimming, fishing and boating on our waterways. Have fun but stay safe by always wearing a lifejacket, not going alone, avoid alcohol and learn swimming and water safety skills"
Notes to the editor
Royal Life Saving's 'Make Safe Decisions Around Water' campaign is aimed at increasing awareness of water safety among our multicultural communities, and promotes simple safety tips to prevent drowning when swimming, boating, and fishing. This campaign includes the following messages, available in Arabic, Nepali, Simplified Chinese, and easy English
Don't go alone
Always Wear a lifejacket when boating and fishing
Don't drink alcohol
Learn Swimming and Water Safety Skills
For media enquiries, contact Media Key: 0409 420 112 or 03 9769 6488.
Click here to access the Royal Life Saving campaign resources and for more information
Media B-roll is available here
Royal Life Saving NSW is supported by the NSW Government – Office of Sport
Royal Life Saving Society – Australia's research, education and advocacy work in drowning prevention and water safety is supported by the Australian Government.
News Date: Thursday 1 April 2021