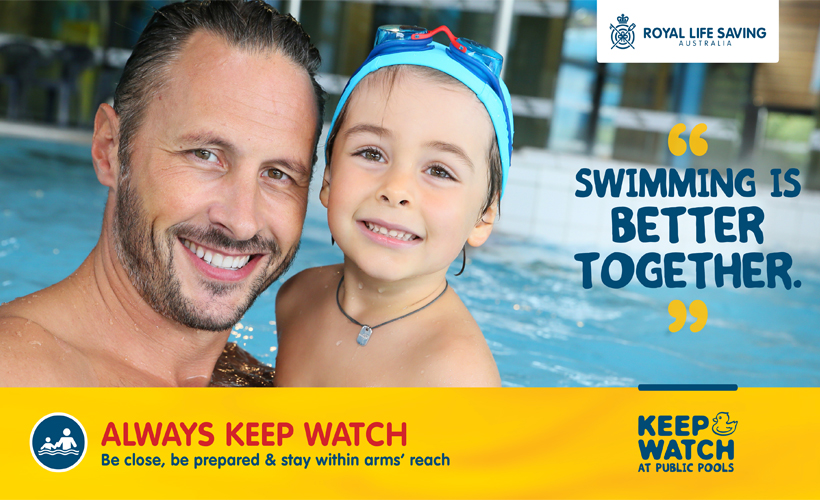 Royal Life Saving is targeting high-risk areas for toddler drowning deaths such as public pools.
With lack of direct supervision by a parent or carer believed to be a contributing factor in 70% of all drowning deaths at public pools, the Keep Watch at Public Pools program aims to eliminate all drowning deaths and reduce the number of near drowning incidents at these facilities.
The program targets parents and carers of children to help them understand their responsibilities and the dangers of leaving their children unattended at the pool.
Become a Keep Watch at Public Pools Partner
The Royal Life Saving Society – Australia's Keep Watch at Public Pools program aims to:
Promote the importance of appropriate levels of supervision within aquatic facilities to the community
Provide partners with support mechanisms to promote Keep Watch at Public Pools
Research and communicate information pertaining to the appropriate level of supervision within aquatic facilities
Promote Keep Watch to the public
As a Keep Watch at Public Pools partner, you will have access to a range of promotional and professional development resources to highlight the very specific role that lifeguards have in keeping the general public safe while educating people that active supervision of children when visiting public pools remains the responsibility of parents and carers.
As a partner, you will also be expected to uphold the use of the Guidelines for Safe Pool Operation (GSPO).
Keep Watch at Public Pools
0-5 YEAR OLDS & NON-SWIMMERS:

Stay within arms' reach

6-10 YEARS OLDS & WEAK SWIMMERS:

Be close, be prepared & maintain constant visual contact

11-14 YEAR OLDS:

Maintain visual contact
What is active supervision at Public Pools?
Active supervision at public pools consists of four key elements:
Be Prepared: Ensure you have everything you need before getting into the water, such as towels and dry clothes.
Be Close: Always be within arms' reach of your child.
All of Your Attention: Focus all of your attention on your child and get into the pool and talk and play with them.
All of the Time: You should never leave your child alone in the water, nor should they be left in the care of an older child or with the assumption that your responsibility diminishes due to the presence of lifeguards.
Find out more
To find out more about becoming a Keep Watch at Public Pools partner, contact your local Royal Life Saving State or Territory Office.