Published 10th November 2021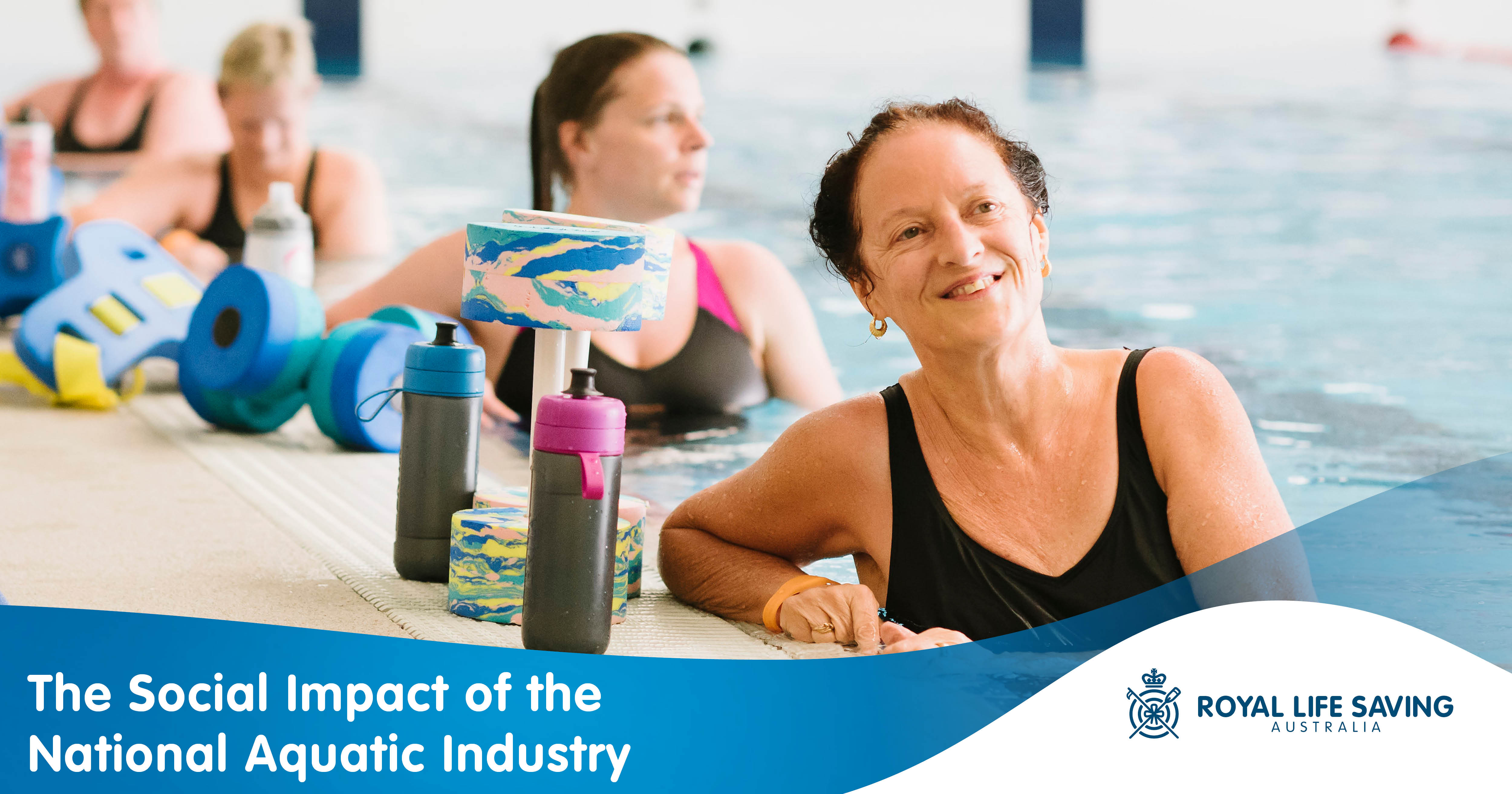 Increased social cohesion and improved health and wellbeing are two of the main social benefits of the Australian aquatic industry, a new report has found.
The Social Impact of the National Aquatic Industry report launched this week was initiated by the Royal Life Saving Society – Australia and Swinburne University of Technology. The research looked at all levels of the industry, from small swim schools through to major aquatic and leisure facilities.
Royal Life Saving Chief Executive Officer Justin Scarr said the report included the four key elements of social impact infrastructure – people, places, policies and programs.
"Public pools mean more to communities now than just being a place to swim; for many communities it is a central hub where people come together. The social impacts are much more diverse than has previously been appreciated," Mr Scarr said.
The research audited existing social infrastructure in aquatic facilities and swim schools via a survey in stage one. Stage two included a qualitative study of interviews with managers and users of more than 100 aquatic facilities and swim schools allowing them to express the richness of their experiences in facilities.
Professor Emma Sherry from the Sport Innovation Research Group at Swinburne University oversaw the research design, delivery, implementation, and reporting. Professor Sherry said the results of the research demonstrated that the aquatic industry provides significant social impacts for Australians.
"Those benefits include health and wellbeing, increasing social connection, providing safe environments for swimming and education, facilitating social cohesion in communities and providing significant employment benefits," Professor Sherry said.
"We identified that the social impact is created with and for community, as it is the local community that co-creates the social impacts in partnership with the aquatic facilities. The physical buildings themselves are often the least important aspect of the delivery of social impacts."
Report contributor and RLSSA's National Manager – Aquatics, RJ Houston said although the report highlights the work aquatic facility designers, owners and operators are already doing, more work is needed to ensure the ongoing sustainability and viability of aquatic facilities in an increasingly competitive and changing social and economic landscape.
"We know from both this report and our earlier work that while local pools compete for resources, they are worthwhile social investments for governments, communities and business owners," said Mr Houston.
"The engagement with vulnerable community members and tailoring of programs is a key point of difference for the aquatic industry which needs to be addressed in infrastructure planning and policy and program development at local, regional, state and national levels. This report provides critical guidance as to how to maximise each pool's social impact and therefore it's relative resourcing attractiveness for policy makers."
The report follows up the earlier research conducted by Royal Life Saving Society – Australia and PricewaterhouseCoopers on the Health, Social and Economic Value of the National Aquatic Industry (available here) – which sought to establish a monetary figure for the industry's total contribution to Australian society each year.
This second report focuses on non-quantifiable benefits such as users' experiences which are believed to be equally important and compelling as the economic data contained in the PwC report.
Read the report below