Published 2 February 2022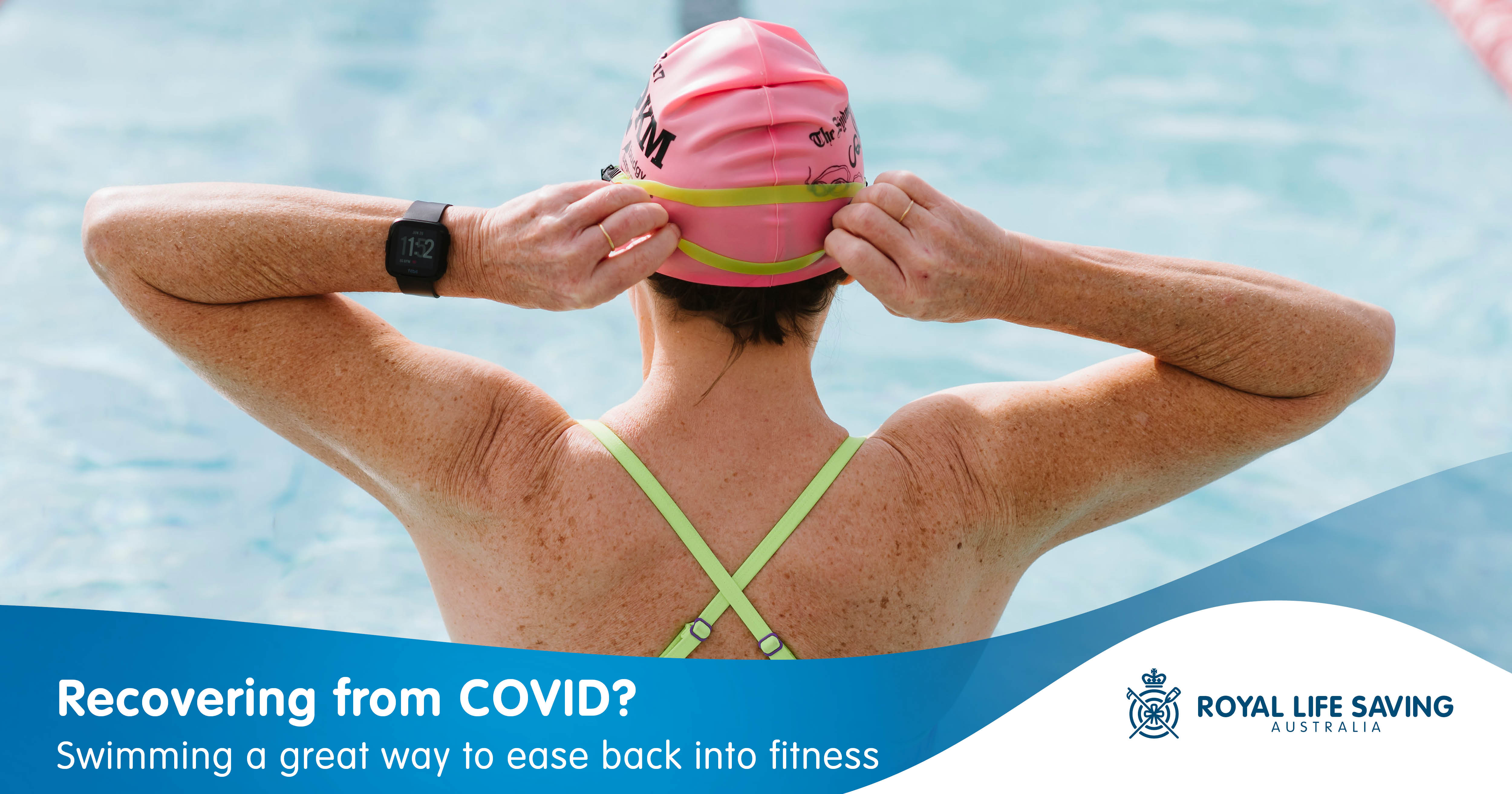 For the more than 1.8 million Australians who have been infected with Covid-19 , overcoming the infection is just the beginning of the journey back to full health.
With medical professionals recommending a gradual return to exercise regardless of your fitness level prior to Covid-19, swimming is a great low-impact, gentle exercise whether you are just starting out or very experienced in the water. Even walking in the water to get your muscles moving again can boost your health.
Swimming in public pools and patrolled locations has the added benefit of trained first aiders and lifeguards on hand should you encounter any post-recovery complications.
Professor John Pearn, Senior Pediatrician at the Queensland Children's Hospital and Royal Life Saving Society – Australia Medical Advisor, highlighted the benefits of swimming.
"From the medical point of view, swimming is one of the best forms of exercise," Professor Pearn said.
"The body is relatively weightless in the water, and this means that there is no injury to joints or the spine when one swims. The deep breathing which accompanies activity in the water is also beneficial."
For those thinking about heading back to the water, Royal Life Saving recommends five tips for starting back safely.
Be aware of your limitations – you may not be able to pick up from where you left off before getting sick. Most people will bounce back within a few sessions
Start with lower intensity – you may need to start with lower intensity sessions to get your body used to exercise again, such as water -walking or substituting with lower-intensity strokes such as breaststroke instead of freestyle.
Set realistic goals – start slowly then build up, as your body will need to get used to moving again
Supervision – visit your local swimming pool where there are professional lifeguards and/or first aiders there to help if you need assistance
Do not exert yourself – if you are not feeling well, stop and try again when you are feeling better. For more advice contact your GP.
Royal Life Saving has been working with pools across the national aquatic industry to ensure that swimming pools have appropriate COVID-19 safety standards in place to manage the risks associated with COVID-19 transmission. Todd McHardy Chief Executive Officer of the BlueFit group said it is a great time to visit your local swimming pool after many pools were closed last year due to COVID-19.
"This is the perfect time to take out a membership and to get active and healthy. If you are returning to swimming after a while, consider booking in a few lessons or coaching to ease into things," said Mr McHardy.
Swimming provides multiple physical, mental and social benefits. Recent research has suggested that swimming regularly can increase mental health and cognitive function . Royal Life Saving research has found one visit to a swimming pool provides approximately $26 in health benefits, especially for those who are inactive ; and adults attending swimming programs reported being happier and more relaxed. Swimming develops positive social networks, in addition to increasing water safety knowledge, skills and awareness .
Royal Life Saving Society – Australia Chief Executive Officer, Justin Scarr encouraged people to swim at their local swimming pool.
"One of the reasons We Swim is for health and wellbeing, and swimming is the perfect activity to re-start your exercise routine," Mr. Scarr said.
"We encourage people to visit their local swimming pool, for the whole family to enjoy the water in a safe environment."
Pool operators are excited to see pool users returning to swimming pools and back into their fitness and exercise routines in 2022.
"Swimming is a great way to ease back into both exercise but also a fun, social community activity for all ages", says Reece Rackley, Group Chief Executive Officer of Rackley Swimming.
For more information visit the Royal Life Saving website www.royallifesaving.com.au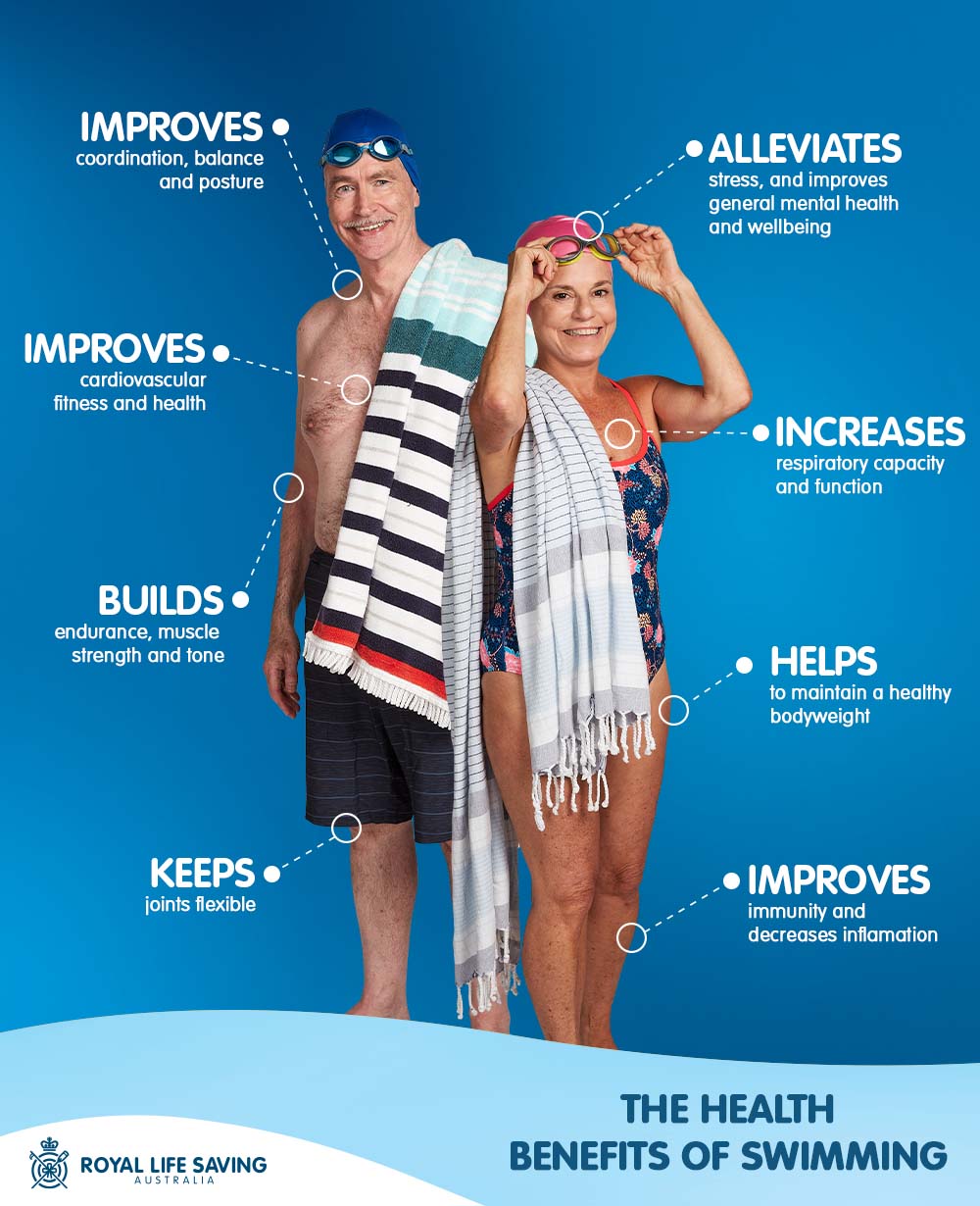 References
Mathew, S. 2021. Swimming gives your brain a boost – but scientists don't know yet why it's better than other aerobic activity. The Conversation - https://theconversation.com/swimming-gives-your-brain-a-boost-but-scientists-dont-know-yet-why-its-better-than-other-aerobic-activities-164297
Barnsley, P. Peden, A. Scarr, J. (2017) Economic Benefits of Australia's Public Aquatic Facilities, Royal Life Saving Society – Australia, Sydney. https://www.royallifesaving.com.au/__data/assets/pdf_file/0006/37563/RLS_IndustryBenefits_LR.PDF
Social, health and wellbeing benefits of learn to swim programs for migrant communities
https://www.royallifesaving.com.au/stay-safe-active/communities/multicultural-communities/social,-health-and-wellbeing-benefits-of-learn-to-swim-programs-for-migrant-communitieshttps://www.royallifesaving.com.au/stay-safe-active/communities/health-and-wellbeing-benefits-of-swimming