Published 20 October 2022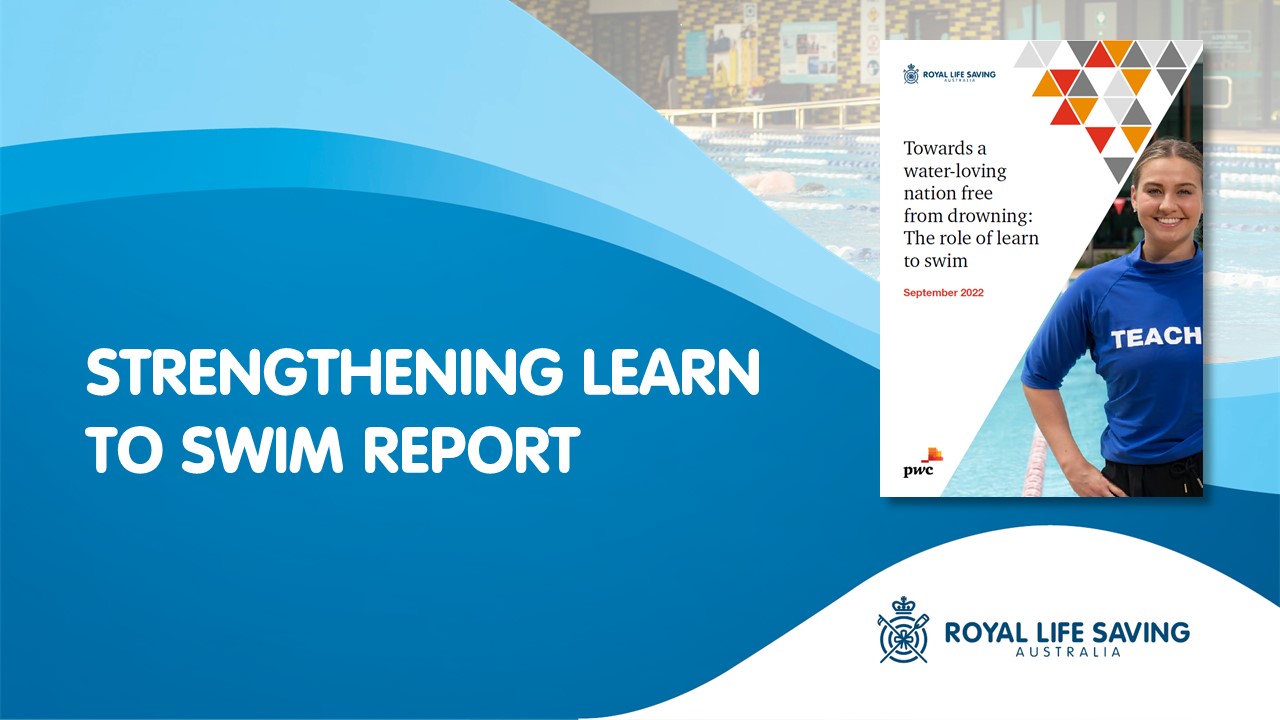 A new report has revealed many children are missing out on learn to swim lessons entirely, with the problem compounded by the pandemic, inflation and worker shortages.
A new report has revealed many children are missing out on learn to swim lessons entirely, with the problem compounded by the pandemic, inflation and worker shortages.
The 'Towards a water-loving nation free from drowning: The role of learn to swim' report, commissioned by Royal Life Saving Society – Australia and completed by PricewaterhouseCoopers, found that many people in Australia fail to achieve the minimum swimming and water safety benchmarks despite participating in lessons.
The report includes recommendations to maximise the potential of learn to swim and improve our nation's swimming and water safety skills, which will assist in avoiding generational risks of drowning.
In addition, the report confirms:
An estimated 40 per cent of children leave primary school unable to swim the length of an Olympic swimming pool
Twenty-three per cent of Australian adults report weak or no swimming ability
Participation in swimming lessons reduces significantly after age seven
The most vulnerable are least likely to access lessons
Barriers include cultural, financial and language difficulties
New cost of living pressures are compounding existing barriers
The COVID-19 pandemic has amplified the problem:
Pools closed
Lessons missed
Swim teacher shortages
Long wait lists
This all means that without deliberate action, it's likely that will be a generational impact on
the nation's swimming ability
long term drowning risk
physical activity
sporting participation and success
tourism
The report identifies three overarching principles to strengthen learn to swim in Australia:
Universal and equitable access to lessons
Supporting and encouraging everyone in Australia to learn to swim, no matter their circumstance, including regional areas and remote Aboriginal communities
Ensuring an outcomes- focused approach in line with the National Swimming and Water Safety benchmarks
The report is available here: https://www.royallifesaving.com.au/Aquatic-Risk-and-Guidelines/aquatic-research/strengthening-learn-to-swim
Royal Life Saving Chief Executive Officer Justin Scarr said the report confirms existing fears of children missing out on swimming and water safety and the ongoing consequences of the COVID-19 pandemic on long-term drowning risk.
"Avoiding any generational impacts of COVID on swimming skills, and getting all children back to swimming and water safety lessons post pandemic should be our number one priority," Mr Scarr said.
"Aside from the increased drowning risk, children who can't swim risk becoming teenagers and adults who miss out swimming for fun, fitness and health"
"Royal Life Saving is most concerned about any 7-12 year who likely had lessons cancelled, and hasn't returned. We urge parents to prioritise swimming first, over any other out of school activity,"
The swimming and water safety ecosystem in Australia can be complex, spread across three tiers of government, organisations, schools and local businesses. The PWC report provides some great insights into the problems, and potential solutions we could all advance together"
---
Royal Life Saving Society – Australia's research, education and advocacy work in drowning prevention and water safety is supported by the Australian Government.