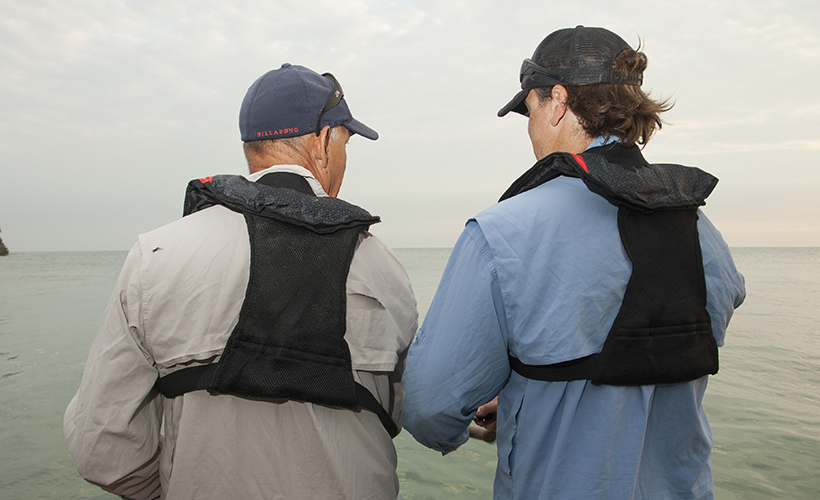 A lifejacket, also known as a Personal Flotation Device (PFD) or buoyancy vest, will keep the user afloat in the water, greatly increasing their likelihood of survival.
As the name suggests, it can save your life in the case of an emergency, giving you more time to be rescued. However, it must be fitted correctly and maintained appropriately. Any lifejacket you purchase or wear should adhere to the proper safety standards and regulations in your region.
A lifejacket should be worn by everyone in open water environments when:
Boating, jet skiing or sailing
Using watercraft such as canoes, kayaks, paddle boards
Fishing, including rock fishing
You expect to be in the water for long periods of time
It is important that lifejackets are worn by all participants on a boat or vessel at all times in accordance with current regulations. If an accident happens, a lifejacket is of no use if is stowed away.
Even competent swimmers should wear a lifejacket when they are in open water or involved in activities such as fishing, boating and jet skiing because, if an accident happens, they may need to spend a long time in the water awaiting rescue, have to swim a long distance to shore, or they may be injured or unconscious.
A lifejacket will keep a person buoyant, particularly if they've been in the water a long time and get tired. Some types of lifejacket can help to roll a person onto their back to keep their face out of water, even if they are unconscious.
Types of lifejacket
Different types of lifejackets are available, depending on what activity (eg, boating versus kayaking) is being carried out and where (eg, sheltered waters or open seas).
These can be either inflatable or non-inflatable lifejackets, and these are all classified based on their intended use and buoyancy levels.
You therefore need to make sure you choose the right lifejacket for the conditions it is going to be used in:
Level 275 lifejackets

Are intended for offshore use and people who are carrying significant weight and require additional buoyancy.
Used for those who are wearing heaving protective clothing which can trap air and adversely affect the capacity of the lifejacket.

Level 150 lifejackets

Are intended for offshore use in rough weather where high standard performance is required.
Will roll an unconscious person into a safe position, with the face up.

Level 100 lifejackets

Are intended for use in sheltered water and should not to be used in rough conditions.
Are intended for those who may have to wait for a rescue.
Will roll a person into a face-up position but this may be limited if a person is wearing heavy clothing.

Level 50 lifejackets

Help to keep you afloat but do not have a collar to keep your head above water if you are unconscious.
Are intended for use by competent swimmers who are close to a bank or shore on smooth waters (eg, water skiers or those being towed), and when a means of rescue is nearby.
Do not keep the user safe for long periods of time.
Require active participation by user.

Specialty lifejackets. Other lifejackets are designed for very specific purposes or Safety of Life at Sea (SOLAS), which are intended for use on seagoing ships.
Inflatable lifejackets
Most inflatable lifejackets are classified as Level 150 or above. Inflatable lifejackets have a carbon dioxide gas cylinder of 33g or more. Inflatable lifejackets must undergo an annual check and require additional maintenance.
Rules and regulations for lifejacket use
The rules and safety regulations relating to the use of lifejackets vary from state to state in Australia, depending on the type of activity you are undertaking, and the age of the participants.
It is important that you know and understand these rules and regulations, and wear the appropriate lifejacket for the location you are recreating in.
These regulations also extend to the correct maintenance of lifejackets and the standards to which they are manufactured.
Lifejacket Safety Checklist
Make sure you have a lifejacket for each person going on your trip on the water
Make sure each lifejacket fits everyone properly, including children
Practice getting in and out of the water while wearing a lifejacket
Make sure everyone wears a lifejacket when travelling on the water in a boat or watercraft
Lifejackets maintenance
Make sure lifejackets are maintained properly, especially inflatable lifejackets.
Lifejackets for children
When choosing a lifejacket for your child, there are a few additional things you need to consider. It is particularly important that you choose the correct size of lifejacket for child, and not one that they will 'grow into'.
How to choose/buy a lifejacket
To effective, it is vital that a lifejacket fits a person correctly so that they are comfortable, and fit securely and snugly.
In addition, lifejackets should be chosen to suit the activity or conditions they will be worn in.
Further information